Why ISNRU?
ISNRU offers high-quality training with CE's that is easily accessible online for the busy neurofeedback professional practicing at any level.
International scientific society

Catering to a diverse membership of professionals

Annual conference recordings available from 2008 through 2017 as well as 2020, 2021, and 2022. Conference recordings from 2023 are coming soon.
Educational programs by experts in various disciplines.

Ongoing professional development

Helping members meet annual training and educational requirements.
Providing educational opportunities in a non-biased, non-salesmanship environment.

Which courses should I take to earn
BCIA Re-Certification hours?
Courses which qualify to earn credits for re-certification hours with BCIA are found in the section designated as BCIA re-certification courses, include a very short set of questions in the form of quizzes (sometimes termed "Final Exam"), and provide a Certificate of Completion. When you click on the course name, you will land on the course overview page. You will see an indication if a cerificate is provided and a list of course materials which will include any exam/quizzes. Additionally, the course description will include the number of credit hours the course provides.To help easily identify BCIA re-certification courses, watch for this image to help you know ahead of time which courses qualify: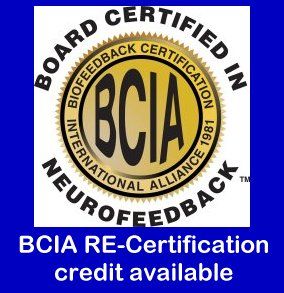 Please note: not all content on ISNRU qualifies for BCIA re-certification credit, only those so noted.
If you are not sure if a course provides credit, please ask before purchasing; you can email
[email protected]
or call 703-848-1994.
The Biofeedback Certification International Alliance (BCIA) is an autonomous non-profit corporation. BCIA policies and procedures are set by an independent board of directors comprised of a rotating group of distinguished biofeedback clinicians, researchers, and educators. Board certification is the mark of distinction for providers of biofeedback and neurofeedback services. Certification is valid for 4 years for providers who carry the credential in biofeedback and neurofeedback. Recertification indicates continuous peer review of ethical practice and the acquisition of advanced knowledge of recent developments in the field through required continuing education. Names of certified practitioners may be found on the BCIA website in our Find a Practitioner search function. Visit www.bcia.org for more information.
Free Videos for ISNR Members
ISNR members have FREE access to all recorded conference videos from 2008 through 2017.
This means ISNR Members now have FREE access to all recorded videos from 10 years of ISNR Annual Conferences (2008 to 2017), which is over 500 hours of educational content.

If you have joined/renewed, to gain access to this free content, first register as an ISNRU Learner. Once you have, you will then have access to view all under Conference Videos.

IMPORTANT NOTE: These free member-only videos are raw footage recorded at the conferences and are provided for interest and/or general educational purposes.
As such, there are no CEUs available for this content.
Contact us
Have feedback, questions or just want to know more? Please feel free to send us a message
Created with